About Lincoln Mill Haunted House

Haunted House Overview
Lincoln Mill Haunted House is Philadelphia's Newest Haunted Attraction. The Haunted House is an evolving story featuring over 40 live scare-actors, production quality sets, props, animatronics, and special effects such as fog, strobes, and flashing lights. The attraction is intended to be scary!
Day Time Scavenger Hunt (No Scare Actors) 
For those that aren't into VERY SCARY attractions, we will be having a more family-oriented event every Saturday in October from 12-4pm with NO SCARE ACTORS.   This means that you can walk through the Haunted House and not worry that someone will jump out and scare you. The lights will be off though!  During this time we will be running an integrated scavenger hunt in the haunted house where you and your family/friends will search for the ghosts that haunt the mill.
Recommended age for the daytime event is 7+
On-Site Staff, Vendors, and Sponsors
We are partnering with a local brewery and food trucks to have beverages available.  Please keep in mind you cannot bring beverages or food into the Haunted House.  Please make sure to stop by our merchandise booth for limited addition haunt gear.
Safety and Security
Safety and Security is by far the most important job to us as haunt operators.  We will have private event security staff on-site throughout the events which will also be at our security checkpoint prior to queue line entry.  All of our event staff will be trained in evacuation procedures in the unlikely event of an emergency.  We will have an on-staff EMT during the duration of the nighttime events at the first aid station.
Trick-Or-Treat-Trolley (October)
In coordination with Manayunk Development Corporation, there will be a FREE Trolley provided with multiple stops along Main Street during the hours of the Haunted House.  Please review this map to see all the stops along the way that are included with your ticket purchase.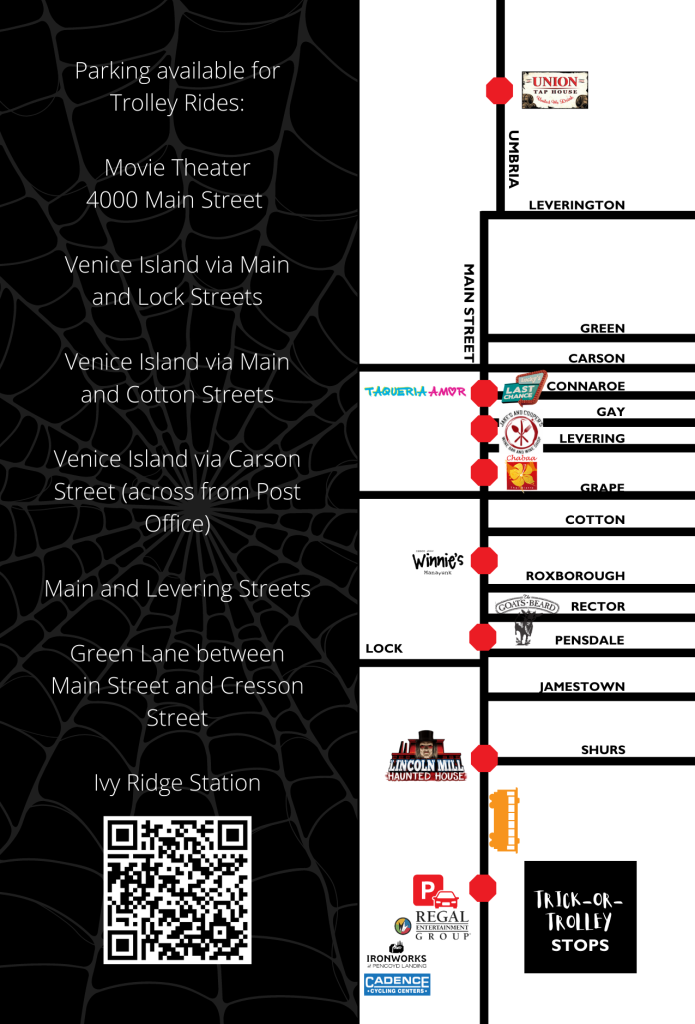 Transportation Instructions
By Trolley – During the night events, Manayunk will be running a trolley up and down Main Street Manayunk stopping at local businesses and parking lots.
By Car – If you are traveling by car, there are multiple parking lots and side street parking in Manayunk.  You can prepay parking for nights of events by purchasing a parking ticket on our ticket website.  There is a limited amount of parking in the lots per night.  The parking will be valid until 6am the following morning.
By Train – One of the best ways to arrive at the Haunted House is by train utilizing SEPTA.  There are two train stops within walking distance, Wissahickon Station and Manayunk Station, both on the SEPTA Regional Rail.
By Bus – Please refer to the Philadelphia SEPTA bus schedule
Uber and Lyft – We recommend you enter the address 4050 Main Street for your Uber and Lyft rides for the destination so you can arrive not at a busy intersection.  You can then walk 100 feet to the entry at 4100 Main Street.
Parking Here
There are over 700 spaces are available in parking lots conveniently located throughout the commercial district.  The following lots are available for parking during the event.
4000 Main Street – (Purchase tickets in advance for this lot limited supply)
Green Lane between Main Street and Cresson Street
Main and Levering Streets
Venice Island via Main and Lock Streets
Venice Island via Main and Cotton Streets
Venice Island via Carson Street (across from Post Office)
Valet parking is available at various locations on Main Street for evening diners and shoppers (after 6pm)
Night Life and Dining Activities
We are partnering with restaurants on Main Street Manayunk to bring you food specials before and after your timed arrival slot.  Please follow our social media pages for more information.  We will also send out updates to the email on file once you purchase tickets as we solidify the dining packages with Main Street businesses.  Please consider a "night out" in Manayunk before or after the haunt to support all our local businesses in the community.
Please view our interactive helpful map below for event location, parking, public transportation, and participating restaurants.